Zeal Manufacturing & Calibration Services Pvt. Ltd. Company, which is an ISO 9001:2015 certified company engaged in manufacturing & exporting of Electronics Testing & Measuring Instruments, and also Calibration Standards for Electro Technical Parameters. Range of products includes Calibrators, Power Sources, Testers and Meters. The company is pioneer in manufacturing of Electro Technical Calibration standards e.g. Multifunction Calibrator, Three Phase Power Energy Meter Calibrator etc. in India, Calibrators have been supplied to Calibration Laboratories, Testing Laboratories in Govt / semi Govt / Private / Multinational organizations in India and abroad. Company manufactures testers like AC & DC High Voltage Breakdown Testers, Insulation Resistance Testers, Ground Continuity Testers etc. Company manufactures Power Sources like DC Regulated Power Supplies, Variable Frequency Sources, DC High Current Sources and AC High Current Sources. Company also undertakes manufacturing of customized test equipment.
To be a globally recognized corporation that provides best Electronic Test and Measuring solutions developed by best-in-class people.
To achieve our vision through fairness, business ethics, global reach, technological expertise, building long term relationship with all our associates, customers, partners and employees.
We are committed to Design, Manufacture, Supply and Sales of Electronics Testing & Measuring Instruments with excellent quality & services to our interested parties by exceeding their requirements.
We will do global benchmarking of our products for market, statutory and regulatory requirements. We will review our QMS for continual improvement by considering context of the organization and applicable requirement of the interested parties.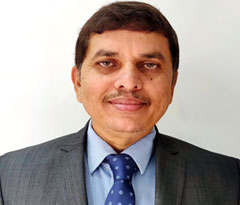 Mr.Vikas Rathod
Mr. Vikas Rathod, has done B. E. Electronics from SGGS College of Engineering & Technology, Nanded, Maharashtra. He has wide experience of more than 30 years in the field of Testing, Calibration and design of Electronics Test & Measuring Equipments. He is knowledgeable of ISO 9001:2015 and ISO/IEC 17025:2017 standards and has implemented them. He is good motivator of staff and possess leadership qualities.