Incepted in August 1996, Zeal Manufacturing & Calibration Services Pvt. Ltd. is an ISO 9001:2008 certified company engaged in manufacturers & Exporters of Electronics Test & Measuring Instruments, Calibration Standards for Electro Technical Parameters. Our range includes Calibrators, Power Sources, Panel Meters, and Testers. Apart from this we also offer Calibration Services (As per ISO 17025 : 2017) for Electronic Test and measuring Instruments.
.
Multifunction Calibrators (5½ digit)

Technical Specification
Input Power :
230 V AC, 50 Hz
DC Voltage :
Ranges: 200mV, 2V, 20V, 200V, 1000V
AC Voltage (45 Hz to 1000 Hz) :
Ranges: 200mV, 2V, 20V, 200V, 1000V 
DC Current :
Ranges: 2mA, 20mA, 200mA, 2000mA, 10A
AC Current ( 45 Hz to 1000Hz ) :
Ranges: 2mA, 20mA, 200mA, 2000mA, 10A
Accuracy :
DC V : 0.10%, AC V: 0.15%, DC Current : 0.10%, AC Current : 0.15%
(Accuracies specified at 25 deg C, RH < 70 %, basic accuracy ±5 digits for DC parameters & basic accuracy ±15 digits for AC parameters.
Stability: 200 PPM for DC parameters, 350 PPM for AC Parameters.
Features:
Overload and short circuit protection
Pure Sine wave with variable frequency
Setting by Decade switches
Frequency setting by potentiometer
Parameter and range selection by inbuilt micro controller based unit and relays. Bar of LEDs to indicate parameter and range.
Separate output ports for V ( Hi ), mA ( Hi ), 10A( Hi ) and Com


Accessory: X 100 AC / DC current coil for clamp on meter calibration up to 1000A
41/2 AC / DC Multifunction Site Calibrator
Description
Site Multifunction Calibrator is specially designed to use on site calibration. This calibrator is having better accuracy, stability & resolution perfectly suitable to perform on site calibration. This calibration equipment is a good tool to calibrate analog & digital multimeters, clamp meters, and panel meters.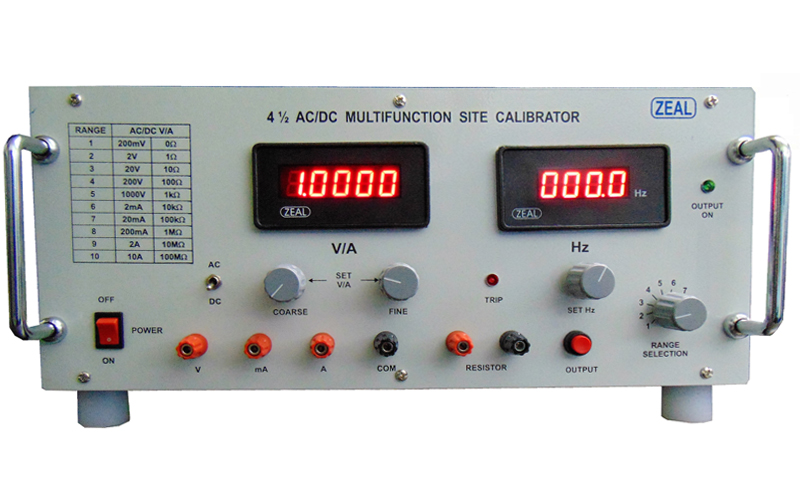 Technical Specification
Make

ZEAL

Model
ZMMFCS4.5
Input Power

230V, 50Hz / 110V, 60Hz

DC Voltage Ranges

200mV, 2V, 20V, 200V, 1000V

AC Voltage (45 Hz to 1000 Hz) Ranges

200mV, 2V, 20V, 200V, 1000V

DC Current Ranges

2mA, 20mA, 200mA, 2A, 10A.

AC Current ( 45 Hz to 1000Hz ) Ranges

2mA, 20mA, 200mA, 2A, 10A.

Accuracy
DC Voltage: ±0.2%, AC Voltage: ±0.3%,
DC Current: ±0.15%, AC Current: ±0.2%,
Resistance: ±0.25%

( Accuracies specified at 25 deg C, RH < 70 %, basic accuracy ±5 digits for DC parameters & basic accuracy ±15 digits for AC parameters. )

Stability

200 PPM for DC parameters, 350 PPM for AC Parameters.

Weight

15 kg

Dimensions

W: 400 X  D: 400  X  H: 170 mm
Features
It is protected from output short circuit and overload
Pure Sine wave with variable frequency
Setting by coarse & fine multiturn potentiometers for V/A
Frequency setting by multiturn potentiometers
Selection of AC/DC parameter by toggle switch
Selection of ranges by rotary switch.
Separate output ports used for V (Hi), mA (Hi), 10A(Hi), and Com.
Separate output ports used for Resistance.
Accessory: X 100 AC/DC current coil for clamp on meter calibration up to 900A
mV/mA/RTD Calibrators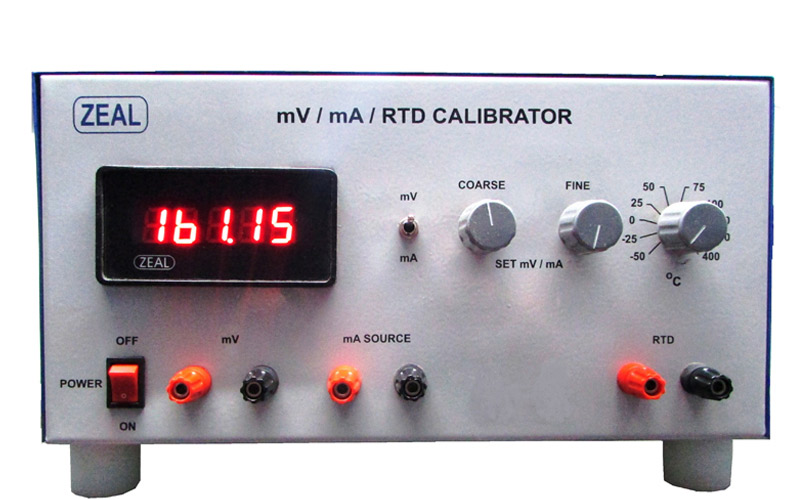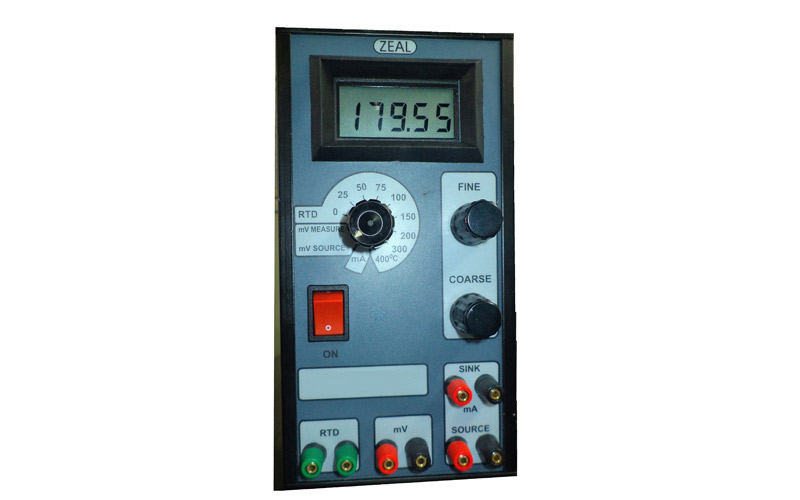 Technical Specification (Mains Operated)
Make :

Zeal

Model :

ZMPCM

Input Power :

230V ± 10% AC

DC Current source Range :

0 to 20mA 

DC Voltage source Range :

0 to 200 mV

Accuracy :

0.1% ± 3 dgt

RTD:
( Fix 8 Position ) -50, -25, 0, 25, 50, 75, 100, 200, 300, 400.
Transmitter Power Supply : 24V DC
41/2 AC/DC Multi-Function Site Calibrator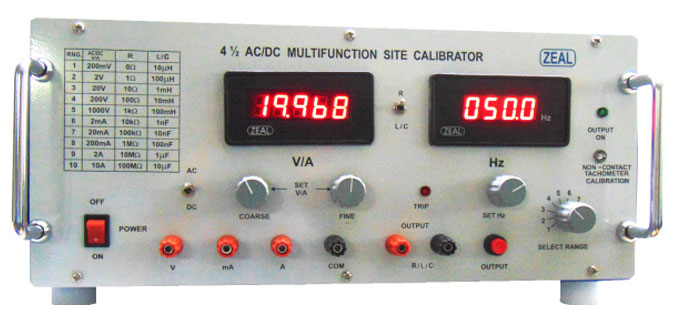 Technical Specification
| | |
| --- | --- |
| Make | ZEAL |
| Model | ZMMFC4.5 |
| Input Power | 230V AC, 50Hz |
| Operating Temperature | 15°C to 45°C |
| DC Voltage Ranges | 200mV, 2V, 20V, 200V, 1000V |
| AC Voltage (45 Hz to 1000 Hz) Ranges | 200mV, 2V, 20V, 200V, 1000V |
| DC Current Ranges | 2mA, 20mA, 200mA, 2A, 10A. |
| AC Current ( 45 Hz to 1000Hz ) Ranges | 2mA, 20mA, 200mA, 2A, 10A. |
| Frequency: | 45Hz to 1 kHz |
| Fixed Resistance | 1 Ω,10 Ω, 100 Ω, 1k Ω, 10k Ω, 100k Ω, 1M Ω, 10 MΩ,100 MΩ |
| Fixed Capacitance: | 1nF, 10nF, 100nF, 1μ F, 10μF |
| RPM (Non Contact): | 60,000 RPM Non Contact Type |
| V/A Selection: | By Toggle Switch |
| Range Selection: | By Rotary Switch |
| Setting: | V/A setting by multiturn Coarse & fine potentiometers, Frequency by potentiometer, Accuracy(@ 15°C to 30°C, RH<70%) |
| DC Voltage | ±0.2 &percnt; of Rdg±5 Dgt. |
| AC Voltage: | ±0.3&percnt; of Rdg±10 Dgt, Frequency: 0.1 Hz |
| Resistance: | ±0.25&percnt;, Capacitance/Inductance: ±5&percnt; |
| RPM(Non Contact Type): | ±0.1&percnt;±5 Dgt |
| Accessories: | X 100 AC/DC current coil for clamp on meters calibration up to 1000A |
| Dimensions: | W:400 X D:400 X H: 170 mm |
| Dimensions: | W:400 X D:400 X H: 170 mm |
| Weight: | 19kg |